Successful Facebook Ads for your business
Tired of wasting money on FB ads that don't work? Looking to increase your ad spend, but not sure how to spend it? Want help optimizing and fine-tuning your campaigns?
Let's be honest, you got into your business for two reasons: 1) to help other people, and 2) to have a successful business that enables you to escape the 9-5 rat race and live life on your terms.
One thing is for sure though – you didn't get into this to become a master of Facebook ads.
These days though, the people you want to help are all hanging out on Facebook and Instagram – and if you don't know what you're doing – connecting with them can be complicated, expensive, and time-consuming. As a result, if you're not using the right strategies and techniques to find your tribe, build an audience, and reach your ideal clients, it can feel like an impossible task.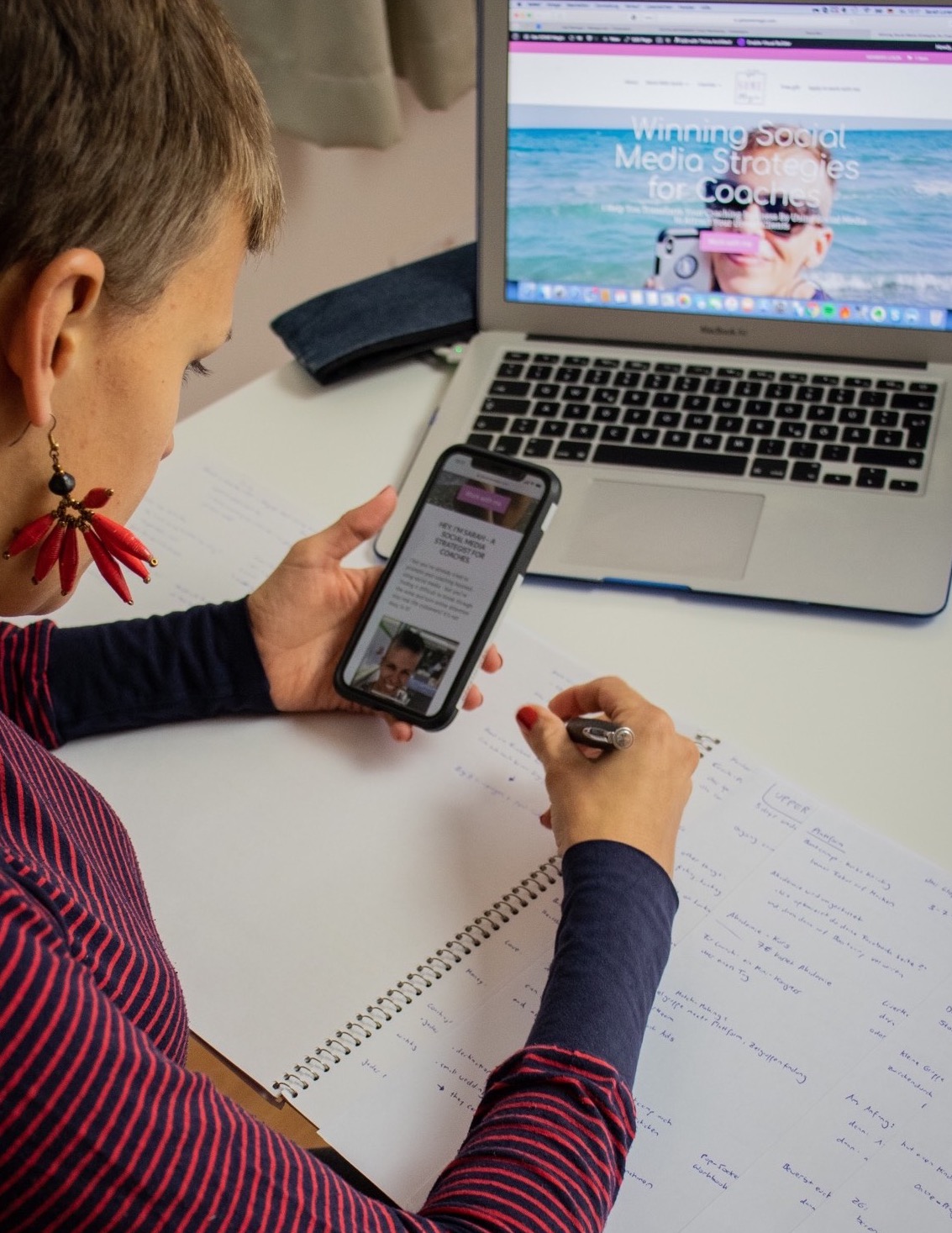 After you've spent some time (and money) trying to work out Facebook ads for yourself, you'll have quickly realised that there are two options when it comes to perfecting the way you use Facebook ads, you can either:
1. Train yourself – the Facebook certification process takes around 4 solid days, you then need the time and the budget to be able to practise, practise, practise, and build up enough experience to be effective (It took me 5 years and a good 6-figure ad budget to get to where I am now).
Or;
2. You can fast track the whole process by working with me and my team. Save yourself a whole heap of time and a whole bunch of money and put your Facebook campaigns in our expert hands. With us, your ads will convert way better, landing you way more clients than you could attract by yourself – leaving you free to concentrate on what you love the most.
TRANSFORM YOUR FACEBOOK AD CAMPAIGNS
If you're already spending money on Facebook ads and looking to take your Facebook advertising to the next level, then my advanced Facebook management packages are perfect for you.
We work with established business owners who have already tried Facebook ads, have a snazzy looking website, and landing pages that pop, but just need expert advice and guidance to bring everything together into campaigns that convert.
When you work with me and my fully trained team of FB experts, we'll lift the lid on your current Facebook ad campaigns, discover what's working, what isn't, and optimize everything to make sure you're getting more clicks, a reduced customer acquisition cost, and most importantly more clients.
This means that when you work with us, you'll get tons of new clients joining your programmes, signing up for your online courses automatically and buying your products. You won't have to touch your Facebook or Instagram ads at all…unless you want to.

This isn't generic advice for Facebook newbies, we'll be taking a long hard look at your campaign data and your website's performance, so we can analyse and optimize all the elements which are holding you back from online success.
We've done this successfully for a whole host of clients who have 4 or 5-figure weekly budgets to manage. They've turned to us, because after working with "normal" agencies nothing they've tried has worked. Our clients know that we have the knowledge, expertise, and experience of marketing businesses online, to make their Facebook ad budgets work HARD for them.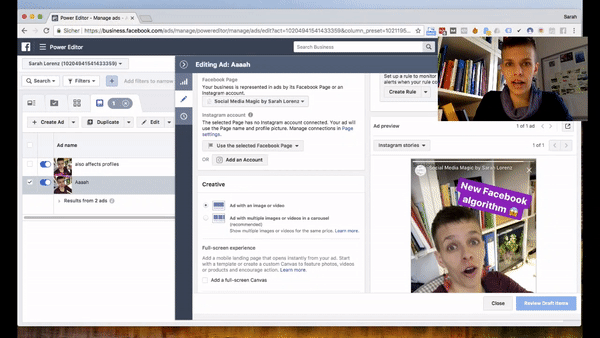 So, now it's your turn – are you ready to achieve the success you deserve by letting us optimize and transform your Facebook ad campaigns?

FACEBOOK ADS SUCCESS STORIES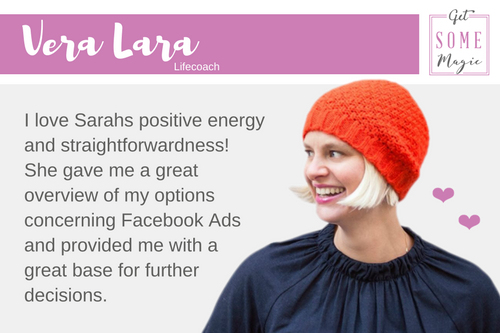 HOW DOES MY FACEBOOK ADS SERVICE WORK?
So, you've already tried to run your own Facebook ads, you've maybe even seen some success with them – but you know you can do better – and you want to work with me and my team to optimize everything. We know EXACTLY how to leverage social media advertising to bring the best results for our clients.
But how does it work?
We'll kick everything off with a 100% free discovery call so we can find out about what you've been able to do up until now and what you want to achieve with your Facebook ads.
We'll then suggest one of our ad management packages based on the needs of your and your business, which might include things like:
In-depth analysis of your existing campaign

Complete done for you campaign optimization based on key metrics like CPC or CPA
Creative ad strategy and split testing to find the most effective ads for your target audience

Organic strategies to help you build an audience by combining ads with your other content

Product launch strategies and conversion funnels

Custom audience research

Retargeting and tracking pixel setup

24/7 Email support, so you can get your questions answered any time

Regular reports showing you the results you've achieved with your ads, budget spend, etc

Budget allocation and ad spend management

New campaign creation, set up, and management
What we end up working with depends on your goals, your current set up, and your ad budget. Each package is designed with the needs of business owners in mind.

FACEBOOK AD MANAGEMENT PACKAGE

For most clients, our pre-designed Facebook ad management package is exactly what they need to supercharge their business. However, occasionally, some clients have more complex needs, so we're happy to develop custom packages too.
Facebook Ads - Ongoing support
This is for you if you are ready to rock your online service or group program and want high-level support. This package includes multiple optins, webinars, livestreams etc.
We'll help to add the tracking pixel to your website and make sure everything is Facebook compliant

We'll find the perfect audiences for your campaign (including custom audiences, lookalikes and retargeting) and make sure they are highly engaging

We'll help create copy and images for your ads

We'll help create videos for your ads

We'll track your Facebook ads and constantly optimize them

We'll run split-tests with different headlines, texts and photos to get the lowest cost per lead and the best results for your campaigns

You'll get monthly updates of your ads status with information about how the ads performed and the changes we made. For this we'll send you a detailed PDF report once the month with all details, screenshots and numbers.

GOT QUESTIONS? LET'S ANSWER THEM

>> Who is this for?
My advanced level Facebook services are for all the people who've been in business for a while, they already have a good website, a decent social media following, and want to take their business to new heights.
>> What will I get out of it? 
We'll help you to turn your Facebook ad campaigns into powerful systems that help you win clients and sell products on auto-pilot. We'll work together to develop systems and strategies that'll take your business to new heights. Not sure what you need yet? Don't worry, we can talk through everything when you book a 100% FREE 30-minute discovery call. 
>> How long does it last?
Each Facebook ads package lasts as long as you need it. Some clients need a full ongoing month-to-month service, while others need a one-off optimization service. We'll discuss exactly what you need before we get started.
>> How much does it cost?
Don't think of this as a cost – it's an investment in growing your business. Any good marketing should have a return on investment, and by the time we're finished, you'll see fantastic results. We can tailor our ad management packages to meet the needs of you and your business.
>> Can I pay in installments?
You can pay monthly, for sure! We take payment for each month of our service upfront via your credit card or Paypal. Of course, you should also bear in mind that you'll need to pay for your own Facebook ad budget on top of our service fees.
>> How can I get started?
Simply book a 100% FREE discovery call with me and we'll have a chat about it. If we're a good fit, I'll suggest a package for you, or create a custom one based on the needs of your business. From there, we'll work together to grow your business to new heights of success.

FACEBOOK ADS SUCCESS STORY

WANT EXPERT HELP TO TRANSFORM YOUR BUSINESS WITH FACEBOOK ADS?