Learn How to Attract High-End Coaching Clients Online
Join my Social Media Magic Circle now and get access to live weekly training sessions showing you the latest and greatest online marketing techniques to take your coaching business to the next level.
Join the Social Media Magic Circle Now for €49
The Problem All Coaches Face
As a coach, the chances are you're currently facing one of two problems:
You want to get started, but you're just not sure how to market yourself. Or;

You've been coaching a while but want to level up and attract high-end clients. Sound familiar?
Don't worry, I'm Sarah Lorenz from Get SOME Magic, I've been exactly where you are, and I solved these problems to build my own 6-figure coaching business that's helped clients 5X their revenue and half their marketing costs. Now I want to help you
Solve the Social Media Mystery
You got into coaching to help people and live life on your terms. You didn't get into coaching to become an expert in 'business stuff' like marketing – despite how critical it is for your business.
For most coaches, the whole social media marketing thing is a bit of a mystery.
It keeps changing so often, it's tough to keep track of. You've no idea what's going to work, or what the best strategies are to consistently land well paying, high-end clients.
Now you can finally solve the social media mystery and put yourself on the fast-track to success.
What current members have to say:
Build a Scalable, Repeatable, Marketing System
If running my own coaching business has taught me anything, it's that you need to be getting ahead of the competition and leveraging the latest social media marketing techniques to be successful.
It needs to become a regular system that's built into your business – you can't stop and start and expect amazing things to happen.
But, building an online marketing machine for your coaching business can be tough – so I want to show you how it's done.
Quick & Easy Marketing Techniques That Get Results
You don't need to spend hours in front of your laptop or stressing out about the best ways to market your business online. I've tried, tested, and developed amazing strategies that I want to show you – so you can jump straight to the results bit.
I've found phenomenal ways of using social media to land high-end clients with $$$ to spend, and automating most of it so I can still spend tons of time with my family and pets. So much so, I even managed to consistently make 5-figures a month before my son turned 1!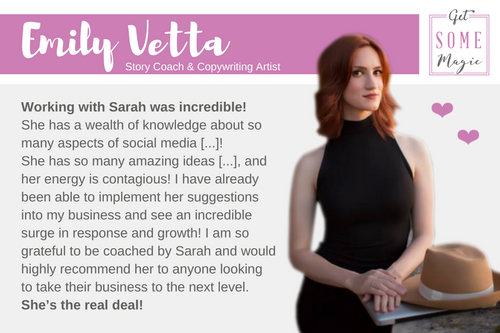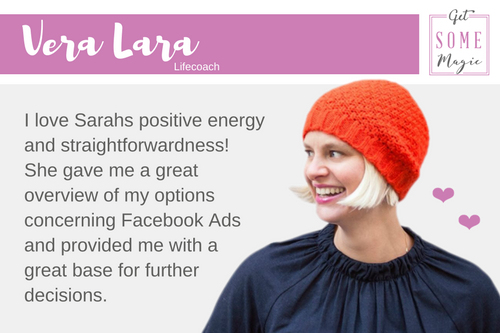 Introducing the Social Media Magic Circle
My all new Social Media Magic Circle is an ultra-affordable way to leverage my 6-figure coaching knowledge to grow your coaching business. In just one hour a week, you'll learn the most powerful online strategies imaginable AND get the time to ask me questions. I'm constantly testing and refining new strategies, so each week will be new and fresh content.
Join now and you'll get access to:
Weekly Training Sessions designed to help you understand and leverage the latest social media and online marketing techniques to help you grow your coaching business.
Live Q&A Sessions that'll help you get the answers to all your burning questions, learn from others, and get feedback on your progress so far.
Unlimited replays so if you can't make a session, want to revisit a topic, or just want to listen to my beautiful voice over and over again, you can anytime, anyplace.
Private Member's Only Access to the Social Media Magic Circle group. Here you'll find other go-getter coaches just like you who are passionate about building their coaching businesses online. You might get to build your professional network, make new friends, or find partnership opportunities – what you make of it is up to you!
You'll Discover The Magic Behind Techniques Like:
The "new" Facebook algorithm
Stories for Facebook groups and pages
Facebook Messenger updates
Instagram hashtag following and recommended posts
Instagram live with friends
Snapchat Redesign
Youtube Stories Function
Pinterest Pincodes
And this is just scratching the surface. Every week will cover something new, to give you the chance to find the exact strategies and techniques that work best for you and your business. Whether you love to speak on camera, or prefer to write, I've got tons and tons of incredible online marketing methods to share with you – to help you transform your coaching business.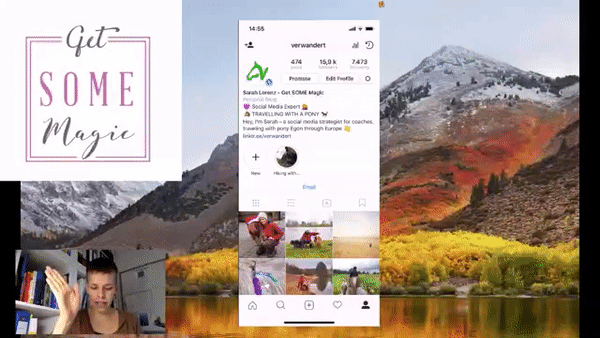 All Your Questions About my Social Media Magic Circle – Answered:
There's nothing worse than having a burning question and not having the answer, is there? This is why each of my live training sessions includes a Q&A section, and why I've included an FAQ here:
>> Who is this program for?
The program is for coaches. Ok, so that's pretty vague. What I mean is, if you're just starting out with your own coaching business, or you're looking to level up and land more high-end clients online, then my Magic Circle is for you. If you don't want to make more money, save tons of time, and are happy not fulfilling your coaching business dreams – then my Social Media Magic Circle isn't for you.
>> I don't have any specific strategies or ideas, can you help?
You bet! The Social Media Magic Circle is all about me sharing the latest and greatest online marketing techniques with coaches to inspire them to do great things when marketing their own businesses.
>> How long does it run for?
Each weekly session is 1-hour long (30 mins of training, 30 mins of Q&A). The thing to remember about social media and online marketing is that it changes all the time. Facebook might change their algorithm, or ad platforms might get super popular and expensive. With that in mind, I'm constantly on the lookout for the latest and greatest techniques to help keep you ahead of the pack and drive-down marketing costs. This means my Magic Circle will deliver you 4 fresh new weekly 1-hour training sessions every single month, for as long as you want it.
>> How much do I have to study?
I'll show you exactly what to do at every step, so all you need to do is attend my training sessions or watch the replay – that's it!
>> How much does it cost?
Every month is only a €49 investment in your business. Cut out a couple of fancy Starbucks coffees every week and the Magic Circle will quickly pay for itself AND transform your business – that's a pretty good deal, huh?
>> How can I pay?
You can pay using any credit or debit card via Paypal. This means all your details are kept safe and secure during the online transaction, but you can also quickly and easily secure your spot – it's the ultimate win/win.
>> Is there a contract?
Nope, there's no contract to sign. You can pay monthly for €49/m and If at any point you decide the membership program is not for you, you can just send me an email and request a cancellation. I'll immediately stop future billing and cancel your access. No hard feelings.
>> What will the membership program bring me?
As a Magic Circle member, you'll always know the latest social media marketing techniques before anyone else does. You'll receive ongoing weekly live training on everything new you need to know about social media, along with live Q&A sessions AND access to a private group of fellow go-getter coaches.
>> What if I can't make the training, will there be replays available?
Absolutely! You can watch the training any time and as often as you like! Obviously, you'll miss out on the chance to join in the Q&A sessions and live networking opportunities if you watch the replay, but you'll still get tons and tons of value from everything I'll show you.
>> What will I receive every month as a member?
You will get to attend a weekly, live, online training session that'll show you step-by-step how to implement the latest social media strategies, followed by a group Q&A in which you can ask any questions. You also get access to a private Facebook group jam-packed with like-minded people for great networking, partnership, and accountability opportunities.
Are You Ready To Attract High-End Coaching Clients Online?
Join my Social Media Magic Circle NOW and the first month is just €49