Yes, I'm in!
I want to rock my Facebook ads!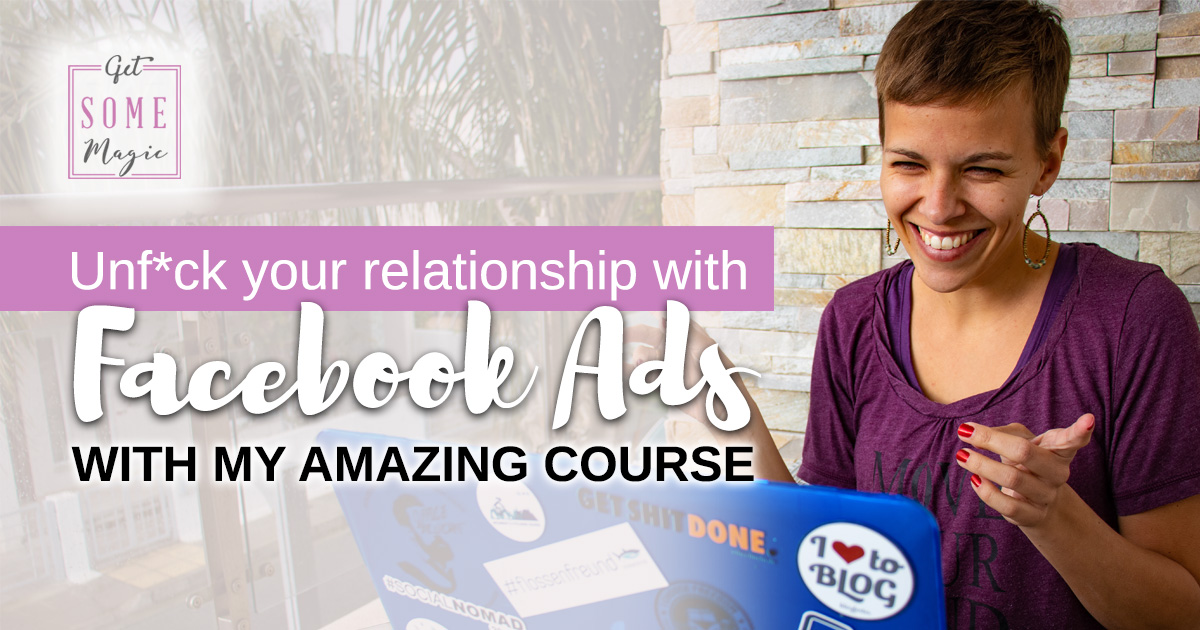 If you sign up today you get access to the complete Facebook Ads course by Sarah Lorenz. Additionally, you become part of the exclusive group of people who take part in the live coaching calls.
You can look forward to:
12 Video-trainings: you learn step by step how to create successful Facebook Ads for your business
8 bi-weekly group coaching calls: Sarah Lorenz and her team support you and a group of other ambitious business owners during the implementation and running phase of your Facebook Ads
Scripts: in order to make money right away with your Facebook Ads you get step by step screenshots and details explanations for every step you need to take within your Ads Manager
SOS support: if you ever get stuck or your ads are not performing the way you'd like, you can always reach out and get immediate feedback. This way you overcome any obstacle as early as possible
Module 1: Getting started with the Ads Manager
You will learn how to set up and access the Ads Manager.
I guide you step by step through the different elements such as campaigns, ad set, and ads.
You will learn which settings you need, how to test different things without actually publishing them and how to evaluate your numbers.
Module 2: Facebook pixel
You will learn what the Facebook Pixel is and how to include it on your homepage.
We cover GDPR and how you can use the Pixel in a way that is GDPR compliant.
Module 3: Profile-based Audiences
You will learn how to create a target audience with interests, demographics, and behavior.
We cover topics like: How to find the right interest, what is the ideal size of this audience, why it is important to narrow things down, how to exclude specific interests and much more.
Module 4: Custom Audiences
You will learn how to build effective custom audiences out of email lists, website visitors, video viewers, Facebook fans, and more.
We talk about effective retargeting strategies and how to find people who are already willing to buy. 
Module 5: Lookalike audiences & Retargeting strategy
You will learn how to create Lookalike audiences and why they are awesome.
You will also learn the difference between cold, warm and hot audiences, why retargeting is super important and how to set it up.
This module goes deep into ads funnel strategy and gives you techniques how you can find out which strategy is the best for your business.
Module 6: Campaign objectives
You will learn how to choose the perfect campaign objective depending on your goals for the campaigns and why it's important to always combine different objectives.
We cover all possible campaign objectives and you can see an example of how the ads look like for every campaign.
Module 7: Ad spend & Ad placement
You will learn how to determine the perfect ad spend & how to choose the best placements for your Ads.
We cover all important placements such as Facebook and Instagram newsfeeds, Messenger, right column, Stories and more.
Module 8: Image
Images are really important when it comes to creating the perfect ad.
In this module, you will learn how to find or create the perfect ad image.
I show you different platforms where you can get stock photos for free as well as tools and apps that help you create amazing photos yourself.
Module 9: Video
You will learn how to create the perfect ad video.
We cover video strategy: What you should say and do in the video for it to work in an ad.
I show you how you can edit videos super easily.
And we talk about subtitles and a step by step guide on how to create them.
Module 10: Copy
Done wrong, using some words and phrases can actually lead to a shut down of your ad account.
Done right, copy captures your audience and make them click your link.
So in this module, you will learn how to write the best possible ad copy that people will love.
Module 11: Split-testing
You will learn how to run split-tests of your campaigns, target audiences, and ads and why this is one of the most important things ever.
I show you a super easy trick on how to run effective split-tests.
Module 12: Tracking your Ads success
You will learn how to determine the success of your Ads.
For this, we will dive deep into the Ads Manager columns.
You will learn what all those numbers mean and how to customize what you see.