Livestreams are THE thing in Social Media right now. It is a "must do" if you are a coach and want to get paying clients over the internet. Stop feeling intimidated & turn your attention to these powerful tools that will make you look like a livestream-pro and get you clients almost automatically.
Be super confident and deliver amazing livestreams?
Stop looking and sounding like everybody else?
Grow a big following and list full of "right people", fast?
Have people actively commenting while you are live?
Know how to bring in guest experts and do easy-to-follow Q&As?
Choose the right platform for every livestream you are planning?
Learn how to actually sell within a livestream?
THEN FOCUS ON THE RIGHT STRATEGIES, THAT WORK!
You'll learn:
Part 1: Become super confident in doing livestreams. Learn all the techniques regarding outfit, background, best face position and how to secretly look at notes without anyone noticing it.
Part 2: Learn which software to work with and how to integrate your logo in a livestream. See how to do guest interviews and how to run effective Q&A.
Part 3: Find the best platform for your livestream. Choose between your Facebook page, Facebook group, Facebook private profile, Facebook stories and Instagram.
Part 4: Understand how to get people engaged, which words to use in every livestream and how to actually sell during the video.
You'll get:
3 hours of recorded video trainings
Bonus workbook to follow through the course
Instagram Live Bonus Video:
Besides all that, you'll get a Bonus Video including everything you need to know about Instagram Livestreams. It was part of my Social Media Magic Circle Membership, where you get a weekly training about the latest social media news.
And in addition to that, you'll get a Cheatsheet along with it.
Amazing, RIGHT?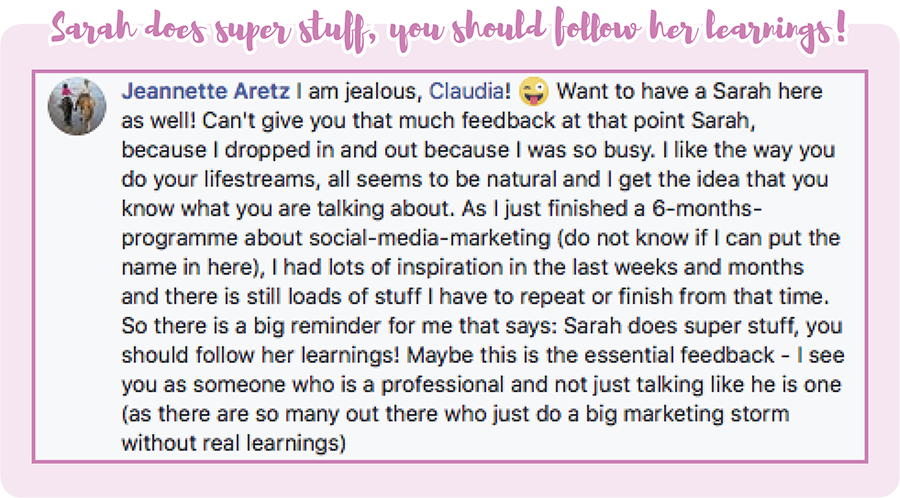 Up your Social Media Game with Livestreams – TODAY!