Do you think Facebook Ads are just a waste of money and never work anyway? Then it's time to unf*ck your relationship with them. Because let me tell you: When done right, Facebook Ads will BRING you a looot of money.
After running Facebook Ads for clients from all over the world for the past 5 years, my experience has confirmed the problem is:
1. People use the "Boost this post" (or as I call it "Waste your money") button without understanding that there is an actual Ads Manager with far more options.
2. People get intimidated by the Ads Manager. They don't understand its main functions and end up doing the same things over and over without getting any real results.
The most asked question I hear is: "What do I need to write in the ad for it to work?" or "Which images should I use?"
You see, while this is important, people don't understand that there are lots of things that are much more important when it comes to Facebook Ads:
Choosing the right campaign objective (Traffic, Conversion, Engagement…)

Creating the perfect audience

Retarget audiences to warm them up, making them eager to buy from you

and much more…
This is why I created this Facebook Ads Course. I want to teach you all the techniques, tips, tricks and hacks that I've learned while handling a 6-figure ads budget over the years.


WHAT YOU WILL LEARN
You will learn how to actually EARN money from your Facebook Ads instead of simply handing it to Facebook.
At the end of this course, you will have active Facebook Ads that constantly bring you new clients and help sell your products and events.
You will learn how to reach people who've never heard of you before, warm them up then watch as they grab everything that you offer as if it's the best Austrian chocolate (if you've been to Austria you know what I'm talking about).
Not only will you learn how to deal with all this technical stuff (I'm talking Ads Manager and Facebook Pixel here) but you'll actually ENJOY implementing it (yep, YOU will ENJOY tech work on your website!)
You will learn how to become a master of audiences. You will know exactly which interests and demographics you need to choose to create the perfect audience and how you can create custom audiences out of website visitors and email lists as well as Lookalike audiences.
You will learn how to become a total funnel bad-ass -that is, navigate potential buyers down a path that leads them to complete the purchase. There are sooo many different funnels you can build with and around Facebook Ads. Combining an engagement or video view campaign with specific retargeting and a well-targeted conversion campaign – aaaaah, so good!
You will learn to love numbers. Phrases like "perfect ad spend" "return on investment", "CTR", "CPC" and "Holy crap, have you seen these low lead costs?" will be your new day to day slang.
You will learn how to look like the world's best graphic designer (there are tools out there! Don't tell anyone ;))
You will learn how to be the new Agatha Christie for Facebook Ads copy.
You will finally learn how to DECIDE things with organized split-tests (this might actually help you in your normal life a lot! Pasta or pizza? Beach or mountains? Sex or money? I'm already beginning to imagine some pretty damn exciting split-test opportunities here! :D)
CHOOSE ONE OF THE 2 OPTIONS AVAILABLE
COURSE MATERIAL AND SUPPORT
LIVE COACHING CALLS WITH ME FOR 4 MONTHS - 2 CALLS PER MONTH
Personal support: 2 LIVE group coaching calls per month with me (you can show me your ads and campaigns and get answers to your most burning ads questions, right on the call!). Imagine what it would feel like to have a second pair of eyes look over your campaigns.
Laser coaching: You will get my personal feedback on your ads.
Community: Connect with other like-minded entrepreneurs and get encouragement and support.
EMERGENCY SUPPORT IN A SECRET FACEBOOK GROUP FOR 4 MONTHS
Emergency support whenever you need it: Are you setting up a campaign but for some reason, something is not working? Do you want feedback on a campaign that ends tomorrow? This is what our secret Facebook group is there for.
I check all your questions daily and always answer ASAP, so that you can continue making money with your ads.
16 video training sessions - each about 60 minutes long
Video training sessions: You get recordings of 16 live training sessions each about a specific topic around Facebook ads. Every video is between 45 and 70 minutes long.
Step by step: You can follow everything step by step and create your own campaigns and ads while watching the videos. Everything is super structured and easy to understand.
16 workbooks - each containing about 35 pages
Workbooks: 16 beautiful workbooks loaded with everything you need and nothing you don't – including all screenshots, step by step explanations, and links.
Bonus material
Bonus resources and material: 4 bonus training sessions. 
A "behind-the-scenes" look at my ads including my own personal funnels and numbers.
An extra training about the Business Manager. 
A full module (video and PDF) about how to create subtitles for videos.
A bonus training about tracking and optimization.
In total 2 hours of extra video content.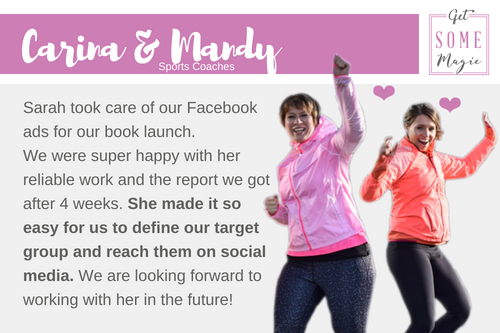 Module 1: Getting started with the Ads Manager
You will learn how to set up and access the Ads Manager.
I guide you step by step through the different elements such as campaigns, ad set, and ads.
You will learn which settings you need, how to test different things without actually publishing them and how to evaluate your numbers.
Module 2: Facebook pixel
You will learn what the Facebook Pixel is and how to include it on your homepage.
We cover GDPR and how you can use the Pixel in a way that is GDPR compliant.
Module 3: Profile-based Audiences
You will learn how to create a target audience with interests, demographics, and behavior.
We cover topics like: How to find the right interest, what is the ideal size of this audience, why it is important to narrow things down, how to exclude specific interests and much more.
Module 4: Custom Audiences
You will learn how to build effective custom audiences out of email lists, website visitors, video viewers, Facebook fans, and more.
We talk about effective retargeting strategies and how to find people who are already willing to buy. 
Module 5: Lookalike audiences & Retargeting strategy
You will learn how to create Lookalike audiences and why they are awesome.
You will also learn the difference between cold, warm and hot audiences, why retargeting is super important and how to set it up.
This module goes deep into ads funnel strategy and gives you techniques how you can find out which strategy is the best for your business.
Module 6: Campaign objectives
You will learn how to choose the perfect campaign objective depending on your goals for the campaigns and why it's important to always combine different objectives.
We cover all possible campaign objectives and you can see an example of how the ads look like for every campaign.
Module 7: Ad spend & Ad placement
You will learn how to determine the perfect ad spend & how to choose the best placements for your Ads.
We cover all important placements such as Facebook and Instagram newsfeeds, Messenger, right column, Stories and more.
Module 8: Image
Images are really important when it comes to creating the perfect ad.
In this module, you will learn how to find or create the perfect ad image.
I show you different platforms where you can get stock photos for free as well as tools and apps that help you create amazing photos yourself.
Module 9: Video
You will learn how to create the perfect ad video.
We cover video strategy: What you should say and do in the video for it to work in an ad.
I show you how you can edit videos super easily.
And we talk about subtitles and a step by step guide on how to create them.
Module 10: Copy
Done wrong, using some words and phrases can actually lead to a shut down of your ad account.
Done right, copy captures your audience and make them click your link.
So in this module, you will learn how to write the best possible ad copy that people will love.
Module 11: Split-testing
You will learn how to run split-tests of your campaigns, target audiences, and ads and why this is one of the most important things ever.
I show you a super easy trick on how to run effective split-tests.
Module 12: Tracking your Ads success
You will learn how to determine the success of your Ads.
For this, we will dive deep into the Ads Manager columns.
You will learn what all those numbers mean and how to customize what you see.
Module 13: Best practice - Troubleshooting
You will learn what the most common mistakes around Facebook Ads are and how to avoid them. You will also learn techniques on how to make your campaigns perform even better.
Module 14: Best practice - Landingpage
You will learn how your perfect landingpage should look like so that you generate leads and sales with it.
We will cover all the things you need to have on a landingpage and where exactly to put it.
Module 15: Best practice - Email funnel and Facebook Ads
You will learn how to build the perfect email funnel. I will show you my very own templates and emails.
You will also learn what to write about in your newsletters, how to tag people according to the actions they took and how to combine all of this with an amazing retargeting strategy for your Facebook Ads.
Module 16: Best practice - Launch strategies
You will learn how to use all your new Facebook Ads knowledge to really rock your next launch.
I guide you through the three most important steps during a launch and show you how you can sell even before the doors officially open. 
You will learn how to set-up powerful retargeting Facebook Ads campaigns, so that every interested person turns into a happy buyer.
Unf*ck your relationship with Facebook Ads NOW
IS THIS COURSE RIGHT FOR YOU?
I designed this course in a way that makes it suitable for beginners and for people who've already run Facebook Ads themselves but didn't get the results they wanted.
So you either:
A: Have never ever run Facebook Ads before and no idea how to even access your Ads Manager.
B: Have tried running Ads but you're not totally sure you did it right and they didn't bring you the results you wanted (let alone new clients/customers).
The course is for all people who want to sell services (like coaching sessions) as well as for people who want to sell (online) products. Your niche doesn't matter.
You can do the course at your own pace.
What you don't need:
You don't need to be a numbers person (you're welcome to ask my school math teacher about my "knowledge" of math and "feeling" for numbers)
You don't need to be a techie (I'm still sending confused messages to my assistant like "Remind me again: Which one is the caps lock key on my laptop?")
You don't need to be a graphic designer (there are tools out there that will make your day)
You don't need any professional equipment (a laptop and mobile will do)
All you need is some time and the will to learn. Plus, if you like seeing me get overly excited about minor things and hop up and down in my chair while doing a video – this would be a big plus.
WHAT MAKES ME AN EXPERT?
I've been running Facebook Ads for clients for over 4 years now (and this does certainly not include all the time where I secretly worked on my own Ads while still in my 9 to 5 job).
In total, this gives me 6+ years of in-depth Facebook Ads knowledge.
I've been running campaigns for a huge variety of coaches, online marketers, and companies – in German as well as in English.
I've been handling Ad budgets of more than 10,000€ per week (no, no typo there, it IS 10k ad spent per week).
I've managed the Facebook Ads for one of the biggest events in Germany.
But most importantly: I adore Facebook Ads and go crazy with every new technique, event, hack, conference – anything and everything!