Unf*ck your relationship with Facebook Ads (January - May)
Become totally obsessed with Facebook Ads and create campaigns your ideal clients can't stop talking about (in a good way, of course! ;))
Join my live Facebook Ads course
Facebook Ads are THE.MOST.EXCITING.THING.EVER! Honestly!
Have you ever jumped out of bed in the morning to quickly open your Ads Manager and have a sleepy yet excited look at how your Ads perform?
Have you ever had a "geekgasm" over Excel sheets and percentage numbers?
Have you ever screamed out "uuuuuuuuuuhhhh!!!" in public when an awesome idea for an Ad pops into your head?
Have you ever drawn diagrams of funnels on your actual wall because the paper you had at hand was too small?
No?
I sure have! 
And even if you really can't imagine you doing any of this (which is fine – my husband wasn't too happy about the wall thing either) I promise you: You will become absolutely obsessed with Facebook Ads and numbers and funnels ideas and everything else, too.
You don't need to be a numbers person (you're welcome to ask my school math teacher about my "knowledge" of math and "feeling" for numbers #loudcough)
You don't need to be a techie (I'm still sending confused messages to my VA like "Remind me again: Which is the cap lock key on my laptop?")
You don't need to be a graphic designer (there are tools out there that will make your day)
You don't need any professional equipment (a laptop and a mobile will do)
All you need is 4 months time (don't worry – there is plenty of implementation time planned) and the will to learn. Plus, if you like seeing me getting overly excited about minor things and hopping up and down my chair while doing a livestream – this would be a big plus.
The course runs from January until May
and we will have weekly Livetrainings in a Facebook Group (plus you get access to all the replay in the membership area of my homepage!)
For all German-speaking people 🇩🇪 The trainings will be in English but in addition, I also have a German-speaking support group. In there you can ask all of your questions in German and get extra support in a language that might feel more comfortable for you!




Here's what you will learn
You will learn how to reach people who've never heard of you before, warm them up (yep, it's as sexy as it sounds :D) until they are boiling hot and then watch as they grab everything that you are offering like it's the best Austrian chocolate (if you've been to Austria you know what I'm talking about).
You will learn how to not only deal with all these technical stuff (I'm talking Ads Manager and Facebook Pixel here) but to actually ENJOY implementing it (yep, YOU will ENJOY tech work on your website!)
You will learn how to become the master of audiences. Forget about real life event management. Organizing a live event for a couple thousand people is nothing in comparison to the magic you will do with your target audiences in Ads Manager (ok, I might exaggerate a little here … I actually organized a live event with 200 attendees once and couldn't sleep for days before. So even better: You will handle thousands of people PLUS get a good nights sleep – yeeeha!)
You will learn how to become a total funnel bad-ass (you might want to invest in some flipcharts to protect your walls :D). There are sooo many different funnels you can build with and around Facebook Ads. Combining an engagement or video view campaign with specific retargeting and a well-targeted conversion campaign – haaaaaach, SO.MUCH.F*CKING.FUN!
You will learn how to become a professional accountant. Words like "perfect ad spend" "return on investment", "CTR", "CPC" and "Holy crap have you seen these low lead costs" will be your new day to day slang.
You will learn how to look like the world's best graphic designer (as I said – there are tools out there! Don't tell anyone ;))
You will learn how to be the new Agatha Christie for Facebook Ads copy.
You will finally learn how to DECIDE things with organized split-tests (this might actually help you in your normal life a lot! Pasta or pizza? Beach or mountains? Sex or money? I'm already beginning to imagine some pretty damn exciting split-test opportunities here! :D)
Here's what you will get
Amazing clients that looooove to work with you (and are happy to invest a good figure for this)
Fully booked out packages and programs
A waitlist of people who are eager to send you money for your courses and products
An engaged Facebook and / or Instagram community (this is so much fun when doing livestreams, btw)
Weekly live-trainings and access to all the replays
A professional membership area where things stay organized and are easy for you to find
The ability to ask all of your questions in an English or in a German Facebook group
Plenty of time to implement everything new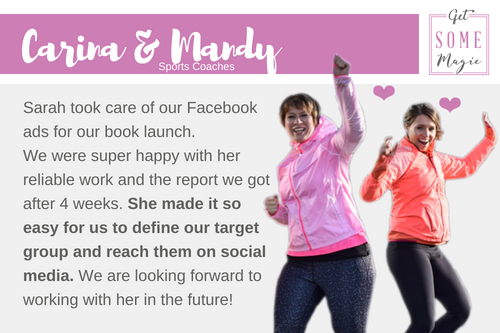 The course started on January 14th and we cover one topic every week! If you join later, no worries: You get all the replays and PDFs.
Module 1: Getting started with the Ads Manager
You will learn how to set-up and access the Ads Manager
Module 2: Facebook Pixel
You will learn what the Facebook Pixel is and how to include it into your homepage (in a way that is GDPR compliant)
Module 3: Profile-based audiences
You will learn how to create a target audience with interests and demographics. We will cover topics like: How to find the right interest, what is the ideal size of this audience, why is it important to narrow things down, how to exclude specific interests and much more.
Module 4: Custom audiences
You will learn how to build effective custom audiences out of email lists, website visitors, video viewers etc.
Module 5: Lookalike audiences & Retargeting strategy
You will learn how to create Lookalike audiences and why they are awesome.
You will also learn the difference between cold, warm and hot audiences, why retargeting is super important and how to set it up
Module 6: Campaign objectives
You will learn how to choose the perfect campaign objective depending on your goals for the campaigns and why it's important to always combine different objectives
Module 7: Ad spend & Ad placements
You will learn how to determine the perfect ad spend & ad placements (choose between newsfeed, Messenger, right column, Stories and more)
Module 8: Image
You will learn how to find or create the perfect ad image.
Module 9: Video
You will learn how to create the perfect ad video
Module 10: Copy
You will learn how to write the best Ad copy that people will love
Module 11: Split-testing
You will learn how to run split-tests of your campaigns, target audiences and ads and why this is one of the most important things ever
Module 12: Tracking your Ads success
You will learn how to determine the success of your Ads. For this we will dive deep into the Ads Manager columns. You will learn what all those numbers mean and how to customize what you see.
Module 13: Best practice – Livestreams and ads
You will learn why you should combine livestreams with Facebook Ads and how to do this in a successful way
Module 14: Best practice – Video funnel within your ads campaigns
You will learn how to create a video funnel within your own Facebook Ads campaigns and why this will totally boost your Ads success
Module 15: Best practice – Email funnel and Facebook Ads
You will learn how to combine your email funnel with your Facebook ads to fill your webinars and sell out your offers
Module 16: Best practice – Launch strategies
You will learn how to use all your new Facebook Ads knowledge to really rock your next launch
Unf*ck your relationship with Facebook Ads NOW
Who is this course for?
This course is for you <3
No, honestly, I designed this course in a way that makes it suitable for beginners and for people who've already run Facebook Ads themselves but didn't get the results they wanted.
So you either:
A: Have never ever run Facebook Ads before and no idea how to even access your Ads Manager
B: Have tried running Ads but you're not totally sure you did it right and they didn't bring you the results you wanted (let alone new clients)
The course is for all people who want to sell services (like coaching sessions) as well as for people who want to sell (online) products. Your niche doesn't matter.
What makes me an expert?
I've been running Facebook Ads for clients for 3 years now (and this does certainly not include all the time where I secretly worked on my own Ads while still in my 9 to 5 job).
In total, this gives me 5+ years of in-depth Facebook Ads knowledge.
I've been running campaigns for a huge variety of coaches, online marketer and companies – in German as well as in English.
I've been handling Ad budgets of more than 10,000€ per week (no, no typo there, it IS 10k ad spent per week).
I've managed the Facebook Ads for one of the biggest events in Germany.
But most importantly: I adore Facebook Ads and go crazy with every new technique, event, hack, conference – anything!
Watch here what my clients are saying about me and my coaching: