Do you have this super amazing offer that you want to launch ut no idea how you should go about it?
THEN A CHALLENGE CAN BE THE WAY TO GO!
Challenges are an awesome way to engage people for a limited amount of time and give a lot of value for free so your potential clients not only get to know you but also want to buy from you in the end.
Especially as a coach, it's crazy how many options you have – depending on what your speciality is.
Messenger Bots are one of the most effective ways to make your way into people's inbox.
The more people open your messages, the higher your chances are of turning them into amazing clients and do more of the awesome stuff that you are doing in your coaching business. And who does not want that, RIGHT?
Don't miss out on this amazing opportunity and leave money on the table by simply passing on this opportunity.
Messenger Bot Magic can help you set up your very own Messenger bot in NO time!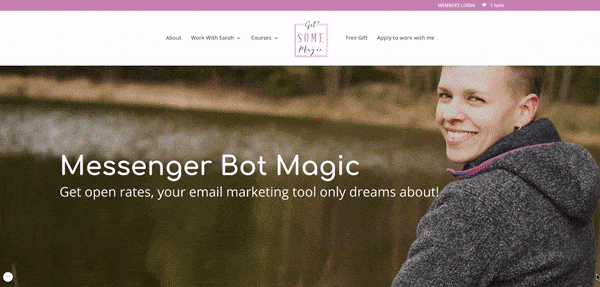 Have a higher open rate on the messages you send out?
Want to reach more people and inform them about your amazing coaching business?
Want to run Facebook Messenger Ads?
THEN TAKE ACTION NOW AND GET THESE OPEN RATES THAT YOU DESERVE!
You'll get Videos about:
How to start with Facebook Bots
How to write compelling copy
How to build the sequence
How to set up Facebook Messenger Ads
… and so much more!
14 videos with 80 minutes full of content, that helps you set up your own Messenger Bot in NO TIME!
What people say about my offers: